Area 5.1 and all its contents are protected by the Ex Post Facto Rule!

Please note:Area 5.1 is said to not exist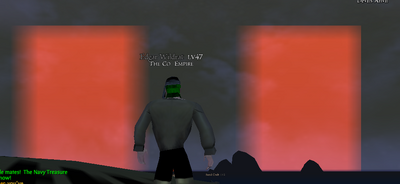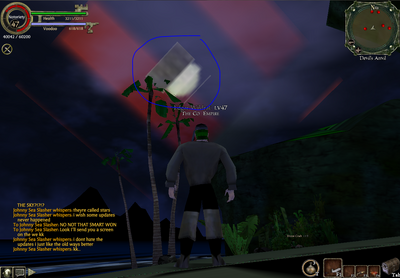 Area 5.1 is the secret British military base where the Non-nuclear Warhead is stored. The base is hidden by veils of magic and high-tech security and is the size of one server in Pirates of the Caribbean Online. In order to gain access, one must find the entrance which could be anything from a doorway in the Kings Arm to under a rock in Tormenta. After finding the entrance you must type in a code to override the Magma Lances and Boiler Cannons. Then you must cast a spell to stop the sudden flow of Demons, Warlocks, Djinni and Pain.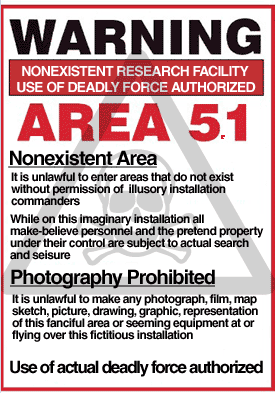 What is Area 5.1?
Are 5.1 is a top-secret British base that holds all secret projects of England.
People Permited into the Area
Edgar Wildrat~Maker King of Greece and Prince of England, Chief Inventor
John Breasly~King of England
Lawrence Daggerpain~Inventor
Matthew O'Malley~Inventor
Jeremiah Stormwash ~Head of Security
Lord Robert~Ship specks
Matthew Blastshot~Head of Navy
Simon Redkull~Head of Ship Development
Where is Area 5.1?
Area 5.1 is located in the Caribbean. It is its own server at the bottom of the list but has a hidden entrance that only several people know of. However, the server itself is unlike any other. There are armed guards and surveillance 24/7. There are also thermal scanners and voice recognition programs running through the trees. The reason that there is all this security is because Area 5.1 is a top-secret base and many enemy countries seek to destroy it. If any weapons inside of Area 5.1 should be found by Spain the world may be destroyed.
Projects
Area 5.1 is constructing ships by the thousands to send to the Kingdom of England. So far we have mad 300 ships.
Area 5.1 is constructing supplies, Russia will be given this supplies which consist of the following:
3 million bags of wheat
750 million pounds of gunpowder.
Several thousand muskets, daggers, bayonets, and cannons
Cannon ammo by the millions
Inventions (released to public)
Community content is available under
CC-BY-SA
unless otherwise noted.