An Admirals Game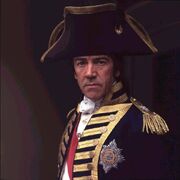 Admiral Edward Pellew of the British Royal Navy was the commanding officer of the British Sqaudron posted in The Isle of Garcia De Avarcia, Whom he was asked to Advise and Support in the War against France, He Was originally posted at kingshead in command of the firgate HMS
Indefitigable.
He Was a Senior officer of the British Fleet in the Caribbean being posted at the age of 21 to the Seventy Four gun warship,
Revenge,
The Admiral in command promoted him to the rank of lieutenant commander at the age of 27 and he was posted aboard the brig
Speedy
as Commanding officer, When he was promoted to captain he was given command of
HMS Hellhound
The Frigate which had been at the battle of Quiberon Bay and had been beaten to splinters but was not defeated, Pellew was then sent to the Cuban Squadron where he was sent on a number of raids against pirate HQ Tortuga. He Was then promoted to Commodore 1st class at kingshead on july 31st 1749, He Was then Sent as second to rear admiral Hammonds in Port Royal, Who was replaced by young Commodore James Norrington, A Fact of which Pellew was had a grudge against Norrington. Pellew was promoted to Rear Admiral in 1754, and Then to Vice in 1756 Being sent to support the Spanish fleet in the caribbean but also to keep an eye on them, an order which came in a sealed envelope. He Was Given the HMS Excaleber as his flagship.
Community content is available under
CC-BY-SA
unless otherwise noted.